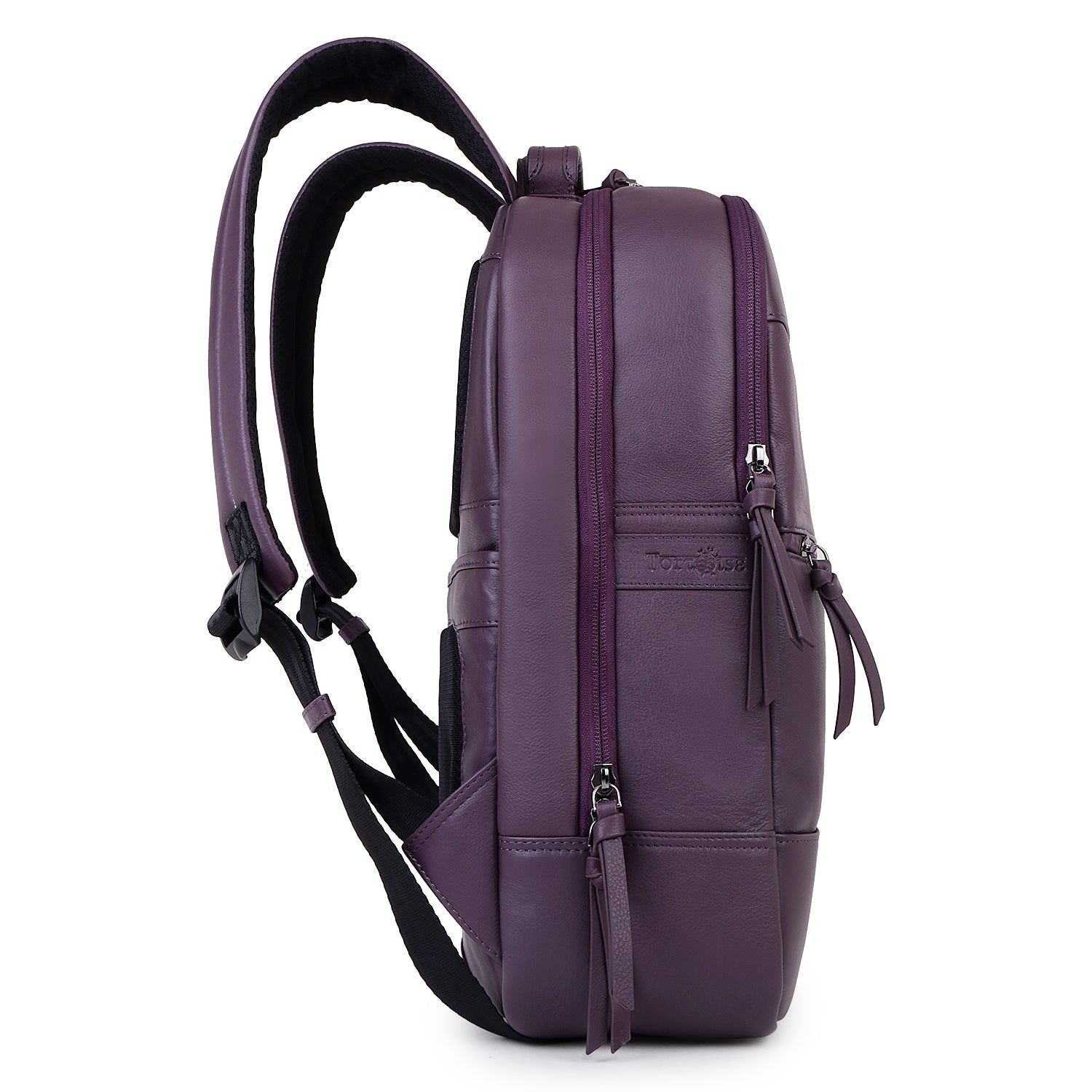 Regular price
Rs. 5,499.00
Sale price
Rs. 5,499.00
Regular price
Rs. 14,999.00
Tax included.
23 people are viewing this right now
The classy Sebastian backpack offers multiple compartments and pockets for enhanced organization and utility. Designed to be an all-in-one work bag, it brings efficiency and style to help you escape the chaos of hectic work hours.
Product details : 
Material
– 100% Genuine Premium Leather |
Product Model No : 
TSMN003 | 
Color
: 
Purple |
Dimensions
– H-16 x L-11.5 x W-4.75 inches |
Main Compartments
– 2 |
Exterior
– 1 Zipper front pocket, 1 Top zipper pocket, 1 hidden zip pocket at rare |
Interior
– Front compartment 1 Zip pocket for cash or valuables, 1 slip pockets for a phone or a charger, 2 pen holders. Back compartment 1 laptop holder and 1 Tablet/Ipad holder | 
Can fit upto 16" MacBook 
and an ipad upto 12 " | Luggage sleeve secures to any Trolley suitcase for a smooth ride.
All Tortoise designs are handcrafted with 100% Genuine Leather. This leads to every product being unique in its own way. The colour and texture may slightly differ from the photograph.
If you seek to exchange or return your purchase for whatever reason, we are here to help. Please note that we offer free exchanges only within 7 days of receiving your order, and that includes a free pickup. To initiate your exchange or return, please email us with your Order ID and phone number on support@redrootsindia.com. We will initiate a complimentary return/exchange pickup from you, and shall keep you updated via SMS/Email.
Here are some essentials that you need to know:
Customised and Personalised products can neither be exchanged nor returned

Returned items must have receipts & tags still on, and must be returned in original packaging

Please have the product(s) maintained in its original condition, else we will not accept the pickup.

Returned items must have no visible signs of wear or use

Please note that you have 

7 days

 only to check for compatibility and anything else.

Returns will only be accepted from products purchased from tortoise.net.in

. For products purchased through our stores or other marketplaces, please contact them directly for an exchange or a return.

In case of a return, we will refund the complete amount to you. It should reflect in your bank account within 15 business days from the day we receive and verify the returned product in its original condition.

For COD orders - please send your payment details via email to support@redrootsindia.com

If you opt to exchange the current product with a different product, you will have to pay differential amount if any.
In case of any doubts, please reach out to us through email support@redrootsindia.com with your order number and details and we will support you through the exchange/return process.
All of our products are made using the finest quality leather and materials. As time passes, your tortoise pieces will mature alongside you. To make sure that the piece(s) remain in great condition, please prevent any contact with oil/ alcohol based substances such as cosmetics, perfumes, hand sanitizers, disinfectants and harsh abrasives. 
Store your tortoise piece(s) in a cool space with low humidity. Do not cover them in plastic. Store them in breathable spaces in cotton covers. Every once in a while, remove them out of your closets to breathe. The more you use your leather, the longer its life. 
Leather is skin after all. It is very natural for leather to react to the environment. In case you see white deposits on your garment/ accessory, clean it with a dry cotton cloth.
Domestic Shipping
We offer shipping services to all destinations within India, subject to the serviceability of our courier partners. The delivery time may vary depending on the location, but most orders are delivered within 5-10 business days from the date of order confirmation.
Unable to Deliver
In the event that you are unavailable to receive or accept the delivery when our courier partner attempts to deliver your order, they will notify you accordingly. Following this, they will make an additional attempt to deliver your order. If, after the second attempt, delivery is still unsuccessful, your package will be returned to our fulfilment center.
For prepaid orders, a refund will be issued to the original payment method used during the purchase process. 
If you have any further questions or concerns regarding our shipping policy or any specific delivery issues, please do not hesitate to contact our customer service team at support@redrootsindia.com. We are here to assist you and provide any necessary support.
Thank you for choosing us as your preferred shopping destination.
Impressive Leather Backpack - A Perfect Blend of Quality and Style!
I recently had the pleasure of purchasing this leather backpack that has exceeded my expectations in every aspect. This outstanding backpack combines exceptional quality, functional design, and an impressive aesthetic appeal, making it a must-have accessory for anyone seeking both efficiency and style.
First and foremost, the quality of the leather used in this backpack is truly remarkable. From the moment I laid my hands on it, I could feel the softness and durability that only genuine leather can provide. The craftsmanship is evident in every stitch, ensuring longevity and a sense of luxury. It's reassuring to know that this backpack will accompany me on countless adventures without showing signs of wear.
One of the standout features of this backpack is the thoughtful compartmentalization. With an abundance of pockets and compartments, it offers an unparalleled level of organization. I can effortlessly store my laptop, tablet, books, accessories, and personal belongings, each in its designated space. No more rummaging through a jumble of items; everything has its own place, making it incredibly efficient for my daily needs.
The efficient design extends to the accessibility and functionality of the backpack. The zippers are smooth and sturdy, providing easy access to all compartments. Additionally, the padded straps and back panel ensure a comfortable fit, even during long hours of wear. The backpack's weight distribution is excellent, making it a pleasure to carry, whether on my daily commute or during travels.
I was also pleasantly surprised by the swift shipping process. The company's commitment to prompt delivery is evident, as my backpack arrived well-packaged and in perfect condition. It's refreshing to experience such efficiency and reliability in an online purchase.
Finally, let's talk about aesthetics. This leather backpack is an absolute showstopper! The sleek and timeless design, combined with the rich, supple leather, creates a striking accessory that effortlessly elevates any outfit. I've received numerous compliments on its appearance, further confirming its ability to make a fashion statement while remaining highly functional.
In summary, this leather backpack has exceeded my expectations on multiple fronts. Its top-notch leather quality, well-thought-out compartments, efficient design, fast shipping, and undeniable style make it an exceptional choice for anyone in need of a reliable and visually appealing backpack. I wholeheartedly recommend it to those who value both functionality and fashion.
Kudos to the team behind this remarkable product. I can confidently say that this backpack has become an indispensable part of my daily life, and I look forward to enjoying it for years to come.
Amazing
Lookwise it is very good.
Very spacious, different types of pockets present.
It is definitely worth buying product plus good material